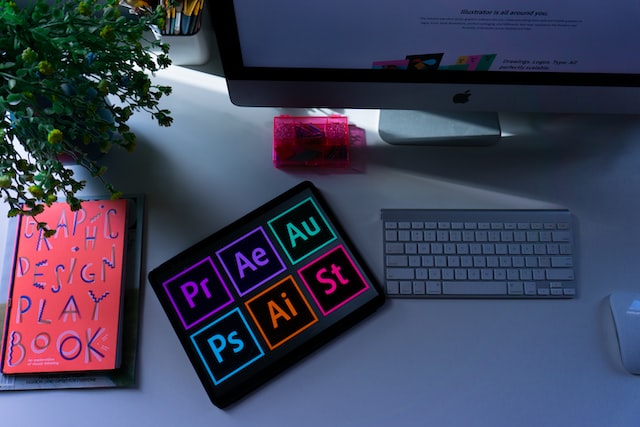 Why is Graphic Design so Important for Advertising?
Why is Graphic Design so Important for Advertising?
Graphic design is essential in advertising, as it helps create a visual representation of the product or service offered.
It can convey a message, create an impression and captivate potential customers.
Graphic design has become increasingly important for companies looking to stand out in today's crowded marketplace. With so many businesses competing for attention, graphic design can help differentiate your company by creating a memorable and eye-catching advertisement.
The Importance of Graphic Designing in Digital Marketing
Marketing is a powerful tool for any business, and graphic design plays an important role in the success of any advertising campaign.
Graphic design helps to create a visual representation of a company's message, product, or service. A business can effectively communicate its intentions to current and potential customers with the right combination of font, shape, colour and image.
The impact of graphic design on advertising is significant. Businesses can quickly convey their message using visuals such as logos and icons, without relying solely on text-based content.
Additionally, strong visuals can attract attention more easily than textual information alone. Furthermore, they can help to create an overall brand identity that will become recognizable over time; this helps businesses build trust with consumers and increase their customer base.
First Impression
A strong first impression is crucial to make a good impression on your intended customers.
A logo is a crucial marketing element for any company making lasting impressions on prospective customers.
A striking and well-created logo can help companies distinguish themselves from their competitors and draw attention to those who seek to connect with their brand values.
High-quality graphic design services provided by skilled professionals will ensure that your logo is a hit with your target audience, stands out, and visually represents the most important aspects of your brand's identity and mission statement in innovative ways!
Professional Image
A consistent, unified method of graphic design is crucial to making efficient marketing materials.
By utilising images and logos carefully throughout your social media, website pages and other channels, you can create an appealing brand that can be perceived with greater recognition.

With the help of expert visual composition and quality graphics, these efforts will be more than mere eye candy, but also an effective reinforcement to make sure that your brand is recognised in the market.
Share your information
Whether a solopreneur or a multimillion-dollar corporation, you've got a brand story you want to tell the world.
Graphic design helps communicate your brand's message to your audience through charts, reports, images and illustrations. It also draws their focus to your offerings.
We recommend that you be creative and bold in your graphic design. You can alter your image by downloading and editing it with photoshop.

Don't be afraid to break away from what the competition is doing; rather, you should embrace your brand's unique identity. This will allow you to stand out in a competitive market.
Increase your Sales
Graphic design can be a very effective tool for businesses, allowing them to leave lasting impressions on their customers and increase conversion rates.
An experienced designer can create images that draw interest, maintain interested, and deliver the correct message quickly and effectively.
With increased exposure on promotional websites or in physical locations, businesses of all sizes can benefit from well-designed graphics – resulting in more sales and revenue thanks to improved conversion rates!
Trust & Credibility
Trust and credibility are two key components of any successful advertising campaign.
Graphic design plays a vital role in building trust and credibility for a brand, as it helps to create visual appeal for potential customers that can help establish an emotional connection with them.
When done correctly, the graphic design used in an advertising campaign can make all the difference in its effectiveness.
With strong visual impact, ads featuring graphic design can catch viewers' eyes more easily while also conveying the message behind the ad more clearly.
This is especially true when it comes to ads designed with modern visual elements such as illustrations, animations or interactive designs that make an ad stand out from other types of media.
Graphic design has become increasingly important as online consumption continues to grow and audiences have less time to consume content due to their busy lifestyles.
The Purpose of Graphic Design
Graphic designers aim to empower their customers and entice audiences with their designs. Each project they undertake is based on their experience in visual communication. This allows them to express ideas through the use of fundamentals and elements. Through making connections between business, people and concepts alike, they are experts in communicating messages visually.
How Impactful is your Graphic Design?
Graphic design plays a pivotal role in advertising. From crafting persuasive visuals to creating a memorable brand identity, the importance of graphic design cannot be underestimated.
It has the power to engage with consumers emotionally and provides an opportunity to differentiate product offerings from competitors.
Graphic design also helps establish trust and credibility within a brand, adding value and making it stand out from the crowd.
Looking for empowering graphic design solutions? Look no further than EWM. Reach out to our team today to discuss your unique needs.