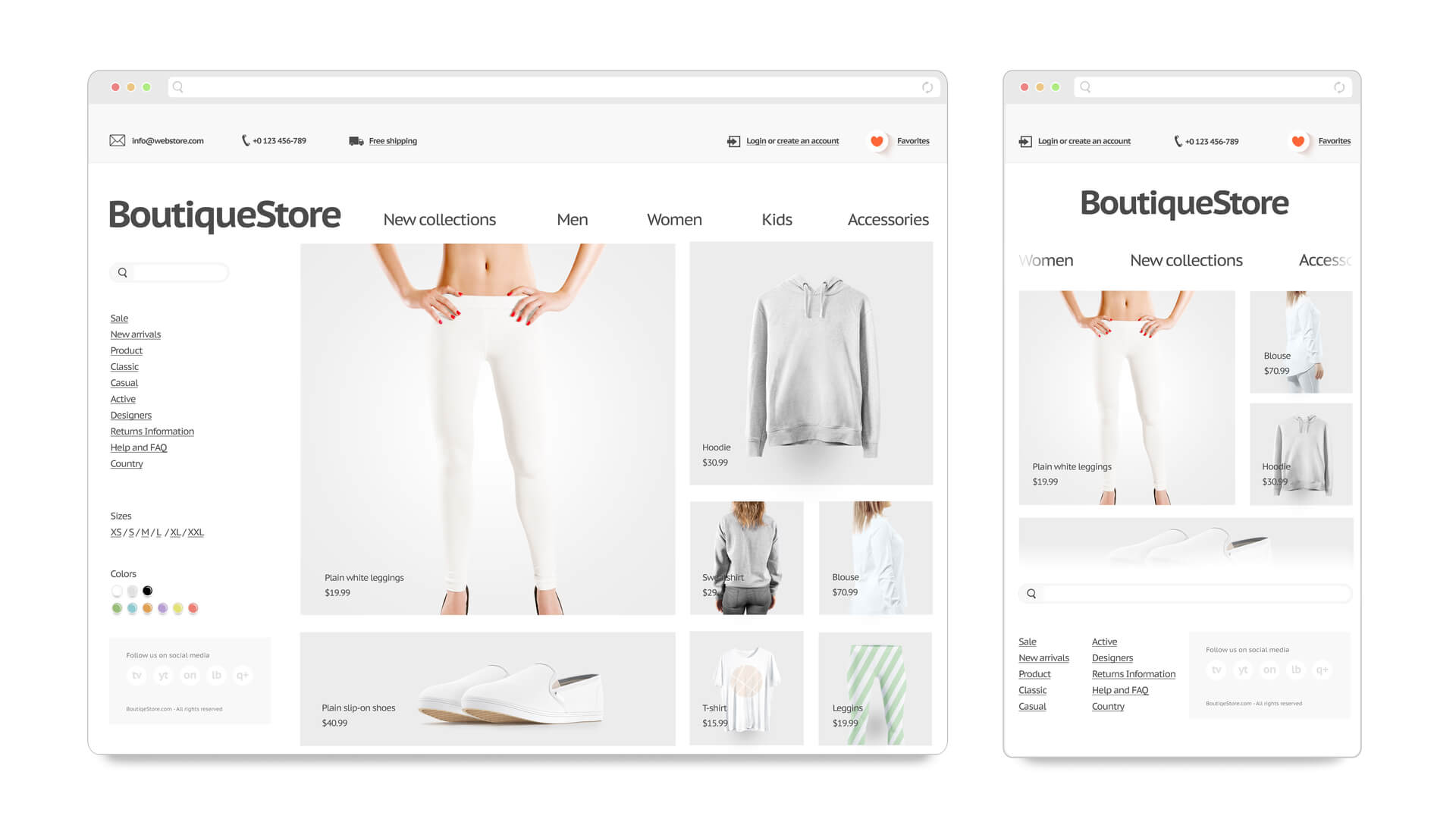 Top Tips for a Compelling Fashion Website
Top Tips for a Compelling Fashion Website
To develop an online space for your clothing store, you need to set up a website. Yes, there are many factors to take into consideration, but when done correctly, you'll benefit from search engine visibility, increased customer reach, transparent reporting and the ability to run your business from anywhere in the world.
The Current Status of the Clothing Sector
The clothing sector has suffered the most from the effects of the economic crisis in recent years. To further complicate matters, there are now countless online stores that allow you to buy various clothes and shoes directly from home. What's more, with so much competition around, prices are typically lower online when compared with those in store.
When considering the current status of the clothing sector, we also need to take into account the coronavirus pandemic. This has changed consumer spending habits, with many consumers spending less not just within the clothing sector, but across all industries.
Creating an E-Commerce Website
Despite the above factors, there is certainly hope for small and medium-sized retailers. Thanks to the internet, businesses can create compelling websites to increase their turnover – and boost their sales.
Creating an e-commerce website is a great starting point for your clothing businesses, especially if you wish to see its online presence grow (and who doesn't want that?!) However, to succeed in such a competitive sector, it's a good idea to carve out your own commercial niche in order to capitalise on all of the possibilities that the internet has to offer.
You should also adopt the services of an experienced web design agency, such as EWM. This will help you to create an attractive website that builds business credibility, fosters customer rapport and accelerates your business' success.
Invest in SEO
If you want your e-commerce website to succeed, then you need to invest in contemporary SEO. This will enable your e-commerce site to appear high up in search engine results, which will naturally increase traffic to your site. By adopting the latest SEO techniques, this will allow you to effectively market your website and store and increase sales/turnover.
That being said, adopting a good SEO strategy is no easy feat and you need to invest plenty of time to ensure an effective strategy.
Firstly and foremost, you need to choose which keywords you want to place on your website. Your selected keywords must contain the characteristics of the products that you sell. For instance, if you run a modern clothing store at a mid-price point, the most important keyword phrases are "modern clothing store," "inexpensive modern clothing" and "modern clothing 2020."
To select the keywords that you want to invest in, you can use free programmes such as Google Keyword Planner and Answerthepublic.
Use High-Quality Photos and Videos
High-quality images make all the difference between and successful website and an unsuccessful one, especially when it comes to clothing. Consumers want to be able to view their desired product in detail, with options to zoom in, check different angles and also see the item modelled in a video.
Some great examples of this include the ASOS and H&M websites. Each item is very clearly laid out with models modelling from different angles, as well as images of the items without a model. You can also click on each image to enlarge it.
For this reason, we suggest that you take live photos with real models, who will demonstrate the item in action. Another thing to bear in mind is the subject of inclusivity. By including models of all shapes, sizes and ethnicities, this will reflect very positively on your brand and will help you to attract a much wider target market.
Finally, when taking photos, good lighting is important. Dark images are unclear and do not inspire customers to buy. Natural light is always best, but you can also invest in a lightbox. Be sure to capture the details of your items, and consider photoshoots in a variety of locations to help create a story, bring out the clothes even more and inspire your customers.
Content
Another issue for consumers is in selecting the size, and understanding how the item is made. This is where honesty and integrity come into the equation. Your products need in-depth descriptions, including materials, length, look and feel, sleeve details, button or zip details, lining, and anything else that is important.
Latest News
One way to get customers involved is to send them regular emails notifying them of new arrivals and promotions. Newsletters are one of the easiest ways to attract traffic to your new website. However in order to send emails, you need to obtain the consent and email address of the users/customers.
About Us
One of the secrets of the success of an e-commerce website is the relationship of trust that is established between users/customers and the brand. For this reason, it's essential to create a page about the history of your brand, your values and policies. Sustainability is also a huge topic and a great appealing factor, so if you have a sustainable policy, be sure to include it.
Contact Us
Finally, no e-commerce website would be complete without a contact page! If you have a physical store, be sure to include an address, contact telephone number and map of your location. This way, if the client lives nearby, he or she can visit your store and see the item they wanted to buy live, before making their decision.
Are you ready to leverage the services of our web design agency?
There are so many elements to bear in mind when it comes to creating an e-commerce website. If you don't get it right, you fail to appeal to your target audience, which will not only affect your reputation, but also your sales.
---
Call EWM, Geneva's leading web design agency, to discuss your e-commerce web design needs. We remain at your disposal for any questions you may have, and are ready to arrange an initial meeting to write some beautiful pages about the history of your company!