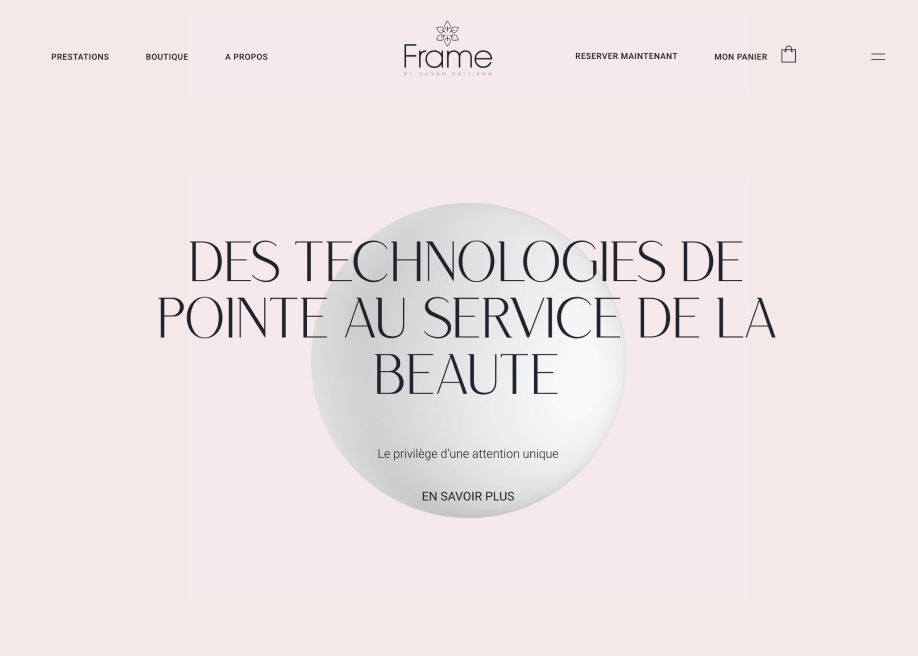 Frame Launches New Web Design from Web Development Agency, EWM
Frame Launches New Web Design from Web Development Agency, EWM
EWM recently launched a brand new website for beauty therapy and wellbeing company, Frame by Sarah Battikha.
EWM began the development process by first gaining a full understanding of Frame's brand positioning.

They then designed a bespoke website that perfectly encapsulates Frame's products, services, philosophy and ethos.
The homepage of the website features a soft pink background colour with capitalised font in black. This draws the user's attention to the centre of the page, and encourages them to scroll further to learn more.
There is plenty of white space throughout the website, which creates a feeling of equilibrium, harmony and balance.

The careful use of whitespace, font style, font colour and photography makes the site look simple and uncluttered. Information is therefore easy to locate, while the site is enjoyable to browse through.
This is a very easy site to use while everything is very transparent, including products and prices.

The overall result is an appealing web design that demonstrates the quality of products and services available at Frame. The final design was delivered with impressive results, including end-to-end SEO.
The Frame website is supported by state-of-the-art front and back-end technology. This not only gives it a powerful layout but also ensures it runs smoothly.

The code used adds functionality to different forms of the site, and ensures the site runs at high-speed, which positively impacts its user experience.
This design was carefully crafted in line with the clients' unique requirements, ensuring that it perfectly represents the Frame brand through design, navigation and execution.

Whether you are browsing through the site from a smartphone, tablet, laptop or PC, it consistently delivers the same enjoyable browsing experience.
About EWM.
EWM is an international digital marketing agency that was founded in Geneva in 2011.

The company, which delivers consistently exceptional results to businesses of every type and size, is renowned for its high-quality services, all of which are customised in line with client specifications.
Whether you're seeking bespoke website design and development services, innovative brand strategy solutions or technical services, EWM is the ideal choice.
Contact EWM if you are interested in any of their services.