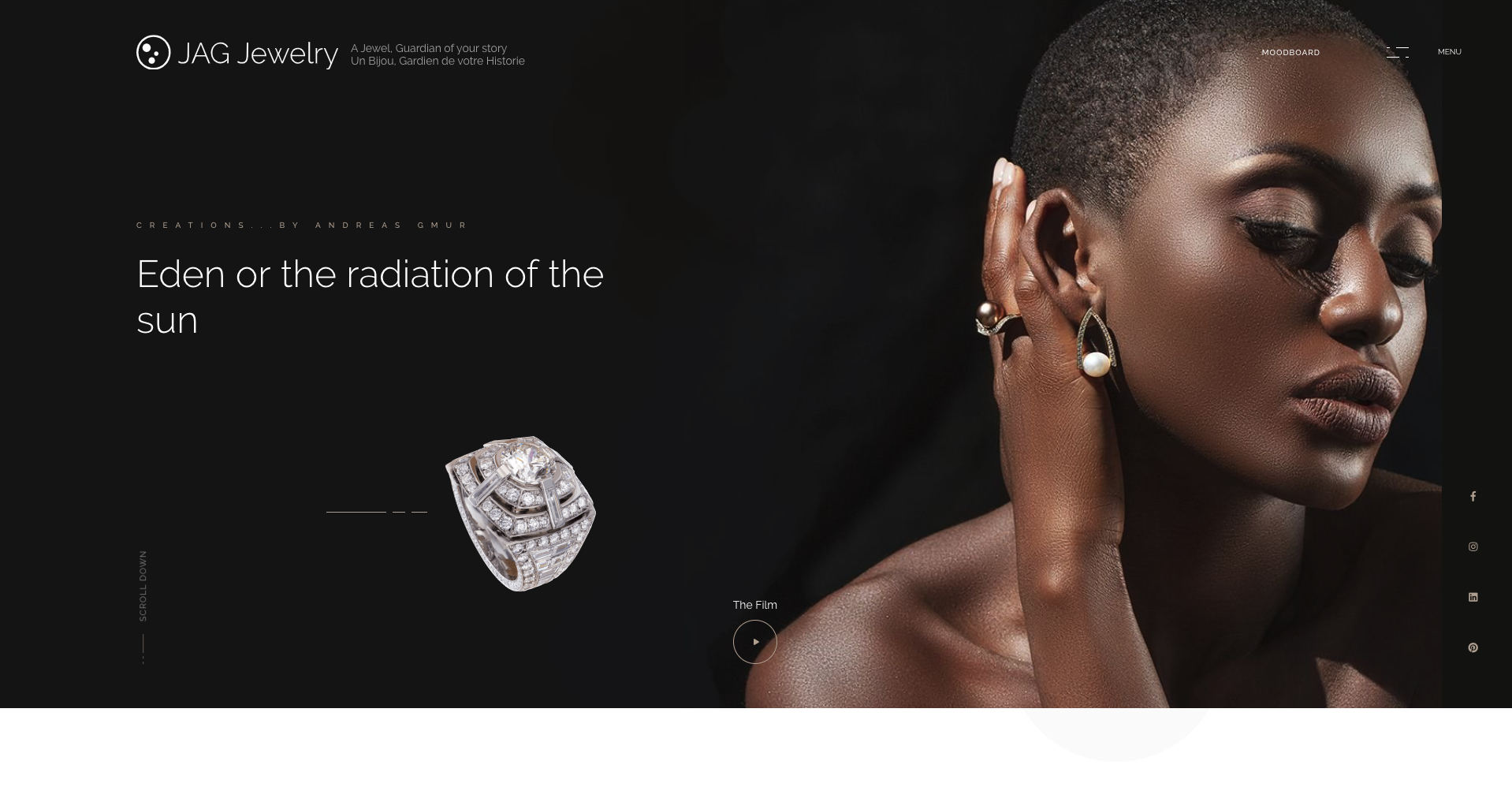 EWM Develops Eye-Catching Web Design for JAG Jewelry
EWM Develops Eye-Catching Web Design for JAG Jewelry
EWM partnered with Geneva-based jewellery artist, JAG Jewelry, to develop an eye-catching web design that immerses users into the creative world of JAG Jewelry.

What's more, this leading web development agency received the prestigious Web Design award from professional competition body, Awwwards, for their creativity and design developed around the JAG-JEWELRY website.
JAG Jewelry is a unique jewellery design company that merges art and symbolism with creativity and technical precision.

Their exquisite pieces of bespoke jewellery evidently involve in-depth design and creation processes.
EWM wanted to reflect the creativity and precision of this brand through the web design.
Upon entering the website, the homepage is incredibly impactful with a striking, eye-catching image. Colour has been carefully chosen to stir emotions in visitors and inspire them to continue browsing.
The website then takes you on a journey through stunning photography, graphics and items of jewellery that are carefully placed to draw the user's eye.

Through the structure of the site, visitors are led on the JAG Jewelry creativity process. As users continue scrolling, they are treated to a magnificent range of impactful, attention-grabbing images.
The 'Realizations' page is particularly enthralling. EWM opted for plenty of whitespace to successfully juxtapose with the intricacy and brilliance of each creation.

The end result is an almost addictive web-browsing experience that inspires you to continue browsing and learning about this unique jewellery brand.
Behind the scenes, this elegant web design features seamless functionality that looks great on all devices and platforms.

It is intuitive and responsive, delivering a memorable user experience that keeps users engaged, right through to the very end.
This is a stunning website where advanced technologies have clearly been implemented to create a magnificent design. Viewers are free to browse at their own pace, gaining access to the information they need with ease.
EWM has yet again succeeded in delivering the vision of their clients into a superb web design.
About EWM.
EWM is a leading international web development and digital marketing agency that merges creativity with state-of-the-art technology for powerful branding, web design and web development solutions.
Providing a wealth of services to a broad international client base, EWM offers highly creative, contemporary digital marketing solutions to businesses of every type and size.
Combining strategy and branding with user experience and user interface, EWM has created more than 500 digital platforms for leading global brands, including the Ducasse Group, AS International and La Reserve.
Contact EWM to discuss your needs.