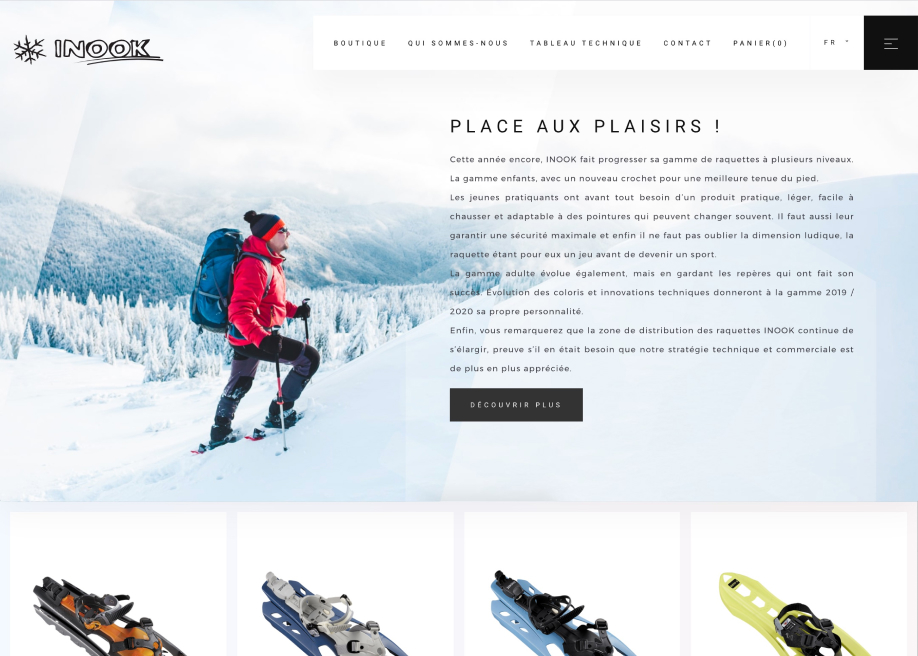 EWM Collaborates with INOOK to Create a Custom Web Design
EWM Collaborates with INOOK to Create a Custom Web Design
Leading digital marketing agency, EWM, recently launched a brand new web design for Swiss snowshoes brand, INOOK.
This modern, clean and accessible web design was created to give visitors easy access to information about the INOOK brand, as well as their range of available snowshoes.
EWM collaborated closely with INOOK to create a fully customised web design that reflected their precise needs. The end result is a site that is easy to search through and find exactly what you are looking for, whether from a traditional desktop computer, laptop, tablet or mobile device.
The site works fluidly on all devices thanks to superior back-end development, which focused on high-quality code and programming language to help communicate database information to the browser, no matter which device it is being used from.
EWM's team of technicians and developers also focused on front-end development, which ensures that the site is visually appealing while offering a powerful user experience.
The homepage is immediately engaging and features a high-quality, high-resolution photograph beside easy-to-read content. Upon scrolling through the site, users are taken on a journey through the different features of this brand, including a glimpse of their products, as well as a section on their values.
Plenty of white space is used throughout the site, which makes the site look simple and uncluttered whilst creating balance and harmony. This also helps to deliver information and lead users from one element to the next.
At the top of the page is a clear table of contents featuring just four pages to choose from. The simplicity of navigation keeps users browsing for longer, as everything is easy to access and understand.
Every element of the site was carefully thought out to create a good impression prospective customers. This also helps to nurture leads and get more conversions.
This site, from the team at EWM, demonstrates the company's creativity, skill and precision when it comes to providing exceptional web design services that appeal to the right clientele.
Possessing more than 20 years of experience, this internationally recognised media design agency understands what it takes to design a website that encourages visitors to take action, and visitors to INOOK will certainly be inspired to peruse through the site and purchase snowshoes.
About EWM.
EWM is an internationally acclaimed digital marketing agency providing a range of key services, including web development, web design, branding and more.

This professional agency continues to inspire and innovate, utilising the latest technological trends and combining them with creative, tailor-made services that never fail to deliver.
To learn more about the services available at EWM, please contact the team.