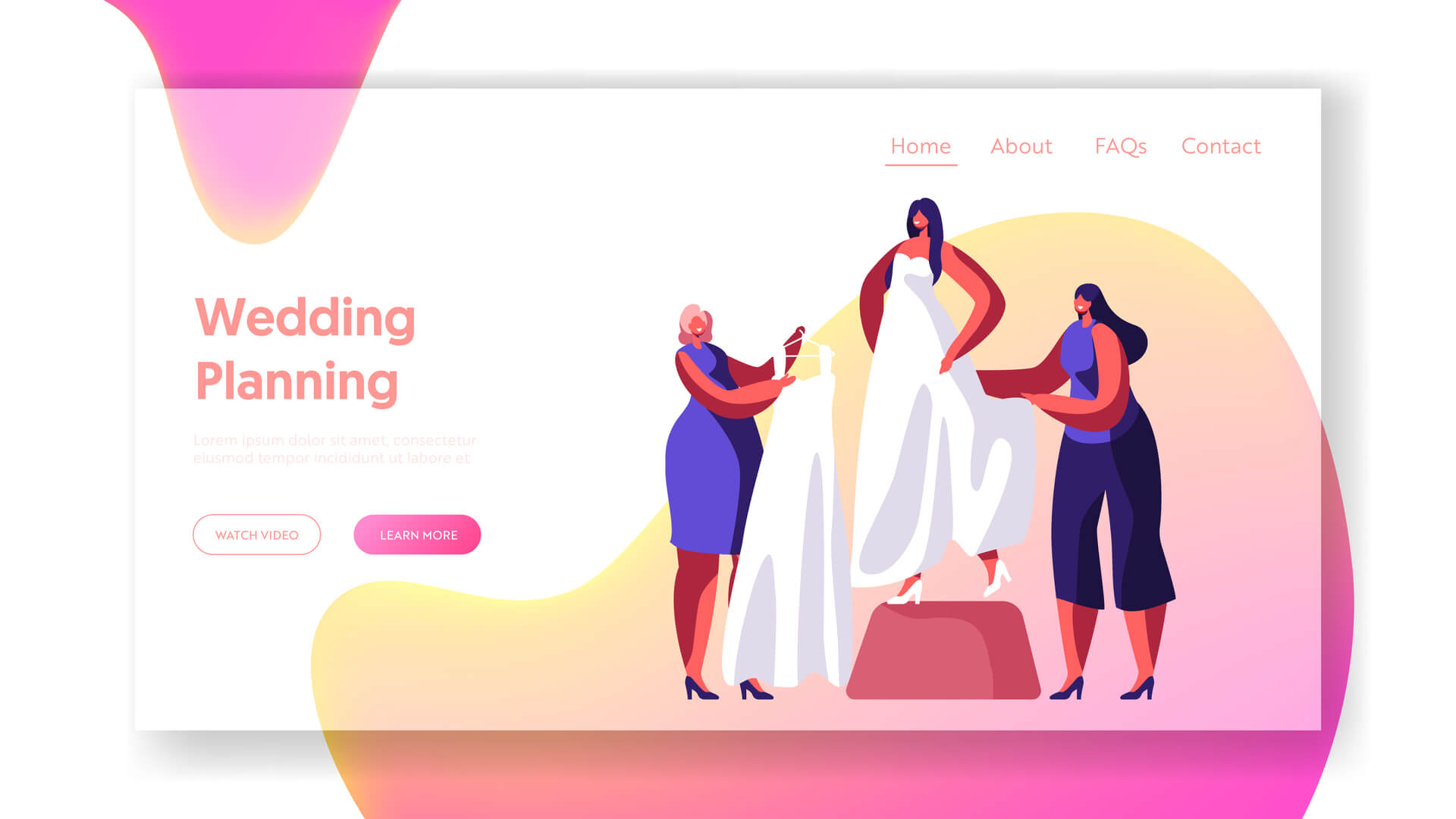 How to Create an Impressive Wedding Planner Website
How to Create an Impressive Wedding Planner Website
If you are a wedding planner, it's essential to create a website to attract new customers. In today's digital age you're going to need an online presence to visually demonstrate your skills and present your work to the world.
The wedding profession was born in the last ten years and has quickly gained more and more momentum across the globe. Not everyone has the time to organize their own wedding, which is one of the many reasons why they hire specialists in the field.
In order to emerge in a sector where competition is increasing, it is necessary to create a website that showcases your expertise. In particular, if you are a freelance wedding planner, it is impossible not to have a website.
Most people, before contacting someone about planning their wedding, will want to be sure they offer exceptional services and are capable of delivering an outstanding service. The easiest way to demonstrate this expertise is to show samples of your work on your website.
Here's everything your wedding planner website needs to include:
About Me/About Us
In order to create a relationship of trust between yourself and the user/client, you need to create a compelling 'About Me'/'About Us' page describing the history of your professional career and all that you have achieved, including professional designations, press and awards. This enables the user to understand your professionalism and the love that you devote to your work.
Creating a "Who I Am" section is the first thing to do when creating a wedding planner website. It gives you the opportunity to introduce yourself to your visitors and learn about your philosophy, values and approach to business.
In this section, you can also include testimonials from your customers, as these enhance the validity of your brand and help you to look more valuable, generating greater trust between you and potential clients.
Invest in High-Quality SEO
It's not enough to just set up a website and fill it with pictures of your work. You must invest in quality content that gives precise answers to the questions that users ask themselves on the web.
Articles published on your website must be SEO optimized. These are the strategies to use to get your website in the top positions of the search engines for certain keywords, bringing greater leads, higher conversion rates and higher close rates.
In the case of wedding planners, you should include keyword phrases such as "best wedding planner Geneva", "who to ask for help organizing your wedding," "Swiss wedding planners" and even "foreign wedding planners" (if this is a service that you offer). This is because even in Switzerland you will find clients wanting to get married overseas.
As a wedding planner, you should also use local referencing, i.e. optimizing content for search engines research based on a specific location. To find the keywords to focus on, you can use free programs and services like Google Keyword Planner and Answerthepublic. The experience of EWM.Swiss, a leading web design agency in Geneva, will be very useful on this point too!
Create a Catalogue of Services
If a prospective customer enters your site, he or she should be able to clearly and easily browse through the services you offer. You should therefore create a section on your site where users can select the services they need to prepare for their wedding.
It makes more sense to create a catalogue with the services offered, rather than offering standard business packages. This adds value to your brand and shows that you take personalization very seriously, given that the work of a wedding planner is mainly based on very specific requests from clients.
In this section you could include sample timelines, stationary pieces, design boards
Include Eye-Catching Photos
Human beings are visual creatures which is why their eyes will be drawn towards photos first. For this reason, you should include plenty of eye-catching images from previous weddings you have planned, in order to increase interest amongst potential clients (get permission from the photographer and your clients first).
Publishing images of the work done on your website is very important in convincing users/clients that we are the best wedding planner on the market. This is why it is necessary to take beautiful photos of every project you have successfully completed, to create a kind of digital album that users can browse through online.
Include your most impressive images that highlight your work in a professional way. Images have the power to trigger different emotions in people, thus improving the user experience of your website and getting them engaged with your content.
Booking Form
Without question, your wedding planner website needs to have a booking form. This is one of the most expedient ways to increase the number of potential clients, as when it comes to getting married, the date is essential!
Contact Us Page
Last but not least, you need a Contact Us page. Your Contact page should be functional, attractive and well written, using relatable language and a personalised design. Your contact form should include the following:
· Email address
· Phone number
· Social media links
· Interactive map
· Message box
· Confirmation message
Finally, your Contact Us page should be accessible on your primary navigation bar and in your footer.
Contact our Web Design Agency in Geneva
As an experienced web design agency in Geneva, we understand that it is the details that make perfection. A customer will invest in your services only if they feel confident in your capabilities, and one of the easiest ways to showcase thee capabilities is with a sterling web design.
Contact EWM. today to speak with our team about your web design requirements.